Chris Froome could lose his La Vuelta title and World Road Championships medals and miss most of next season after an adverse test for asthma drug salbutamol.
A urine sample Froome gave during La Vuelta was found to contain twice the permitted concentration of the drug and, unless he can prove there was no fault on his part, he is likely to lose his title and be unable to defend the Tour de France next July or chase a third straight Grand Tour win at May's Giro d'Italia.
British Cycling was told about the finding before Froome competed at September's World Road Championships, and his two bronze medals in Bergen could also be stripped.
The International Cycling Union (UCI) wrote to British Cycling's president Bob Howden on the same day, September 20, that Froome was told.
In a statement released to Press Association Sport, a British Cycling spokesman added: "The UCI have confirmed that their investigations do not preclude Chris Froome from competing."
Froome and new performance director Stephen Park were informed of the news before the 32-year-old raced in the men's individual time trial, finishing third to add to his team time trial bronze in Team Sky colours.
He was among the favourites for Sunday's BBC Sports Personality of the Year award after becoming the first British winner of La Vuelta and completing only the third Tour-Vuelta double in history. The broadcaster declined to comment on the Vuelta issue but confirmed Froome remained on its shortlist.
Froome was named British Sportsman of the Year by Sports Journalists' Association last week. Co-chairman Andy Elliott told Press Association Sport: "The award for SJA sportsman of the year is voted on by our 700-plus members based on performances throughout the year and Chris Froome gained the most votes in a close contest."
Froome must now answer the UCI's request to explain the adverse finding, which occurred after the Vuelta's 18th stage on September 7 – when Froome responded to a disappointing ride the day before by stretching his lead over Vincenzo Nibali on the last climb.
The concentration of salbutamol in Froome's sample was 2,000 nanograms per millilitre (ng/mL), double the World Anti-Doping Agency's limit of 1,000 ng/mL.
A member of the beta-2 agonist family of drugs, salbutamol is banned by WADA when taken intravenously or in pill form but asthma sufferers can take up 1,600 micrograms over 24 hours using an inhaler, without exceeding 800 micrograms (mcg) every 12 hours. A typical dosage, or puff, is 100 mcg.
In a statement issued by Team Sky, Froome said: "My asthma got worse at the Vuelta so I followed the team doctor's advice to increase my salbutamol dosage.
"As always, I took the greatest care to ensure I did not use more than the permissible dose."
In a message posted on his Twitter account on Wednesday morning, Froome added: "I am confident that we will get to the bottom of this."
The inquiry will focus on when Froome took his last dose, how dehydrated he was and if anything else he was taking or eating may have had an impact.
Italian rider Alessandro Petacchi was given a one-year ban and stripped of five stage wins at the 2007 Giro after returning a Salbutamol concentration of 1,320 ng/mL.
Leonardo Piepoli returned a sample with an even higher concentration on the same day but was not banned and a third Italian, Diego Ulissi, was given a nine-month ban in 2015 after a sample from the previous year's Giro showed a similar salbutamol level to Froome's.
Ulissi's attempts to explain the reading included trying to replicate the conditions of the day he was tested in a lab – something the UCI is likely to insist of Froome, too.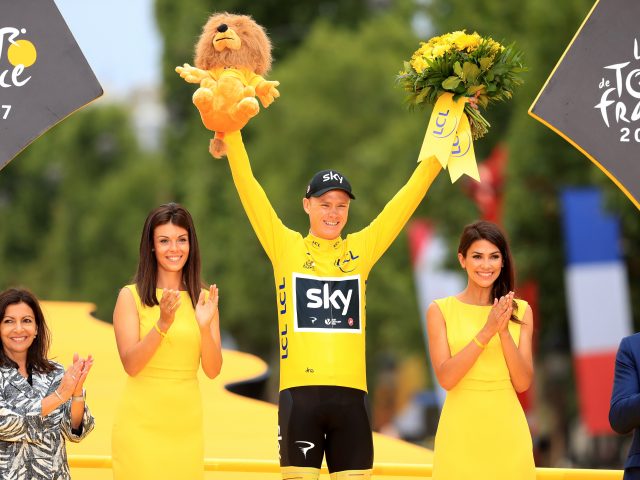 So far, the UCI has only confirmed the details of his finding and said he is not subject to a mandatory suspension.
UK Anti-Doping said it is a matter for the UCI but it will "liaise with them as appropriate".
Team Sky boss Sir Dave Brailsford said: "There are complex medical and physiological issues which affect the metabolism and excretion of salbutamol. We're committed to establishing the facts and understanding exactly what happened.
"I have the utmost confidence that Chris followed the medical guidance in managing his asthma symptoms, staying within the permissible dose."
Rider and team will try to continue as normal but there is no escaping the fact this is a crisis, particularly so soon after the controversy surrounding the delivery of a mystery package to Sir Bradley Wiggins in 2011.
Froome played no part in that episode but now finds himself facing a ban that could cost him one of his greatest wins, a shot at joining cycling's greats next year and his standing within the sport and wider public.